Velg Training launches its biannual VET eZine for 2020!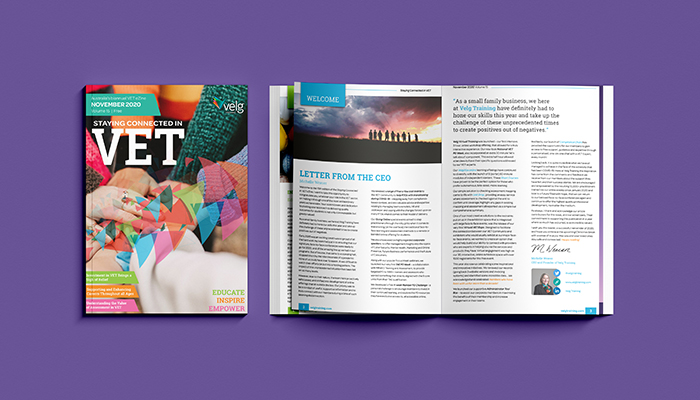 2020 has been one of the most extraordinary years we have seen so we are hoping we can encourage you to take some time for yourself and enjoy Volume 15 of our VET eZine!
We are proud to bring to you a range of motivational stories on the back of what has been a difficult year for the VET sector.
Free for our Velg Training members, this eZine presents writings from the heart of Velg Training, our beloved CEO, Michelle Weaver, along with key accounts from writers that play an integral role within our VET community that educate, inspire and empower us all.
The VET eZine is written with a key goal in mind which is to Educate, Inspire and Empower you all so, whether you are inspired by Tiffany Blight's insights into Enhancing Careers throughout All Ages & Stages, or enthused by Rob Bright's dedication and passion to Assessment Quality, or simply blown away by the Resilience & Reinvention of the VET Sector, just sit back, relax and let this publication connect you with stories that really matter.