Celebrating National Skills Week 2020!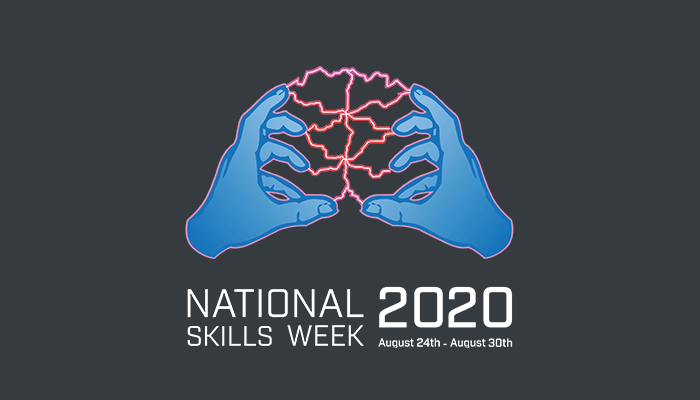 This week has seen the 10th annual National Skills Week event - National Skills Week 2020!
Taking place between Monday 24th and Sunday 30th August National Skills Week 2020 has been showcasing activities and events throughout the week which have been aimed at schools, training organisations, industry, employers and supporters of vocational education and training.
Brian Wexham, CEO and founder of National Skills Week highlighted the diversity of opportunities provided through Vocational Education and Training. In the National Skills Week 2020 Official Video Brian referenced the Prime Minister of Australia, the Hon. Scott Morrison, reiterating the message that Vocational Education and Training, and the skills that emanate from it, are going to be absolutely central to getting Australia's economic recovery going post COVID.
Minister for Employment, Skills, Small and Family Business, Senator, the Hon. Michaelia Cash said that National Skills Week is an opportunity to think about your career and consider where vocational education and training can take you. The jobs and skills needed as we come out of the crisis aren't likely to be the same as those that have been lost and National Skills Week will once again highlight the many opportunities vocational education and training (VET) can provide Australians seeking to upskill or reskill. The VET sector will be critical to getting people into jobs, and meeting employers' skills needs.
National Skills Week, is also something the National Careers Ambassador, Scott Cam, is passionate about. Mr Cam said that having diverse skills up your sleeve is always an advantage, and that his own experience shows that Vocational Education and Training (VET) can take you just about anywhere you want to go in life.
"The National Careers Institute should be your first stop, and then you can click through to websites including MySkills, Job Jumpstart, Job Outlook and Course Seeker ." Mr Cam said. "These are all excellent online resources to help you make informed decisions about learning, training and work pathways."
To mark National Skills Week 2020 the National Skills Commission has also released a list of 25 emerging occupations that could offer a new pathway for those wanting to reskill or find new employment.
Throughout National Skills Week students have been able to put their 'lets explore hats' on to look around at what their own career pathways can be whilst identifying where potential growth will lie, and the job outcomes associated with those. Brian Wexham said "What is important is that students actually see something that they are passionate about. Connecting a passion with a career outcome means that you will never work a day in your life because it is something that you enjoy."