Adopting a New Regulatory Approach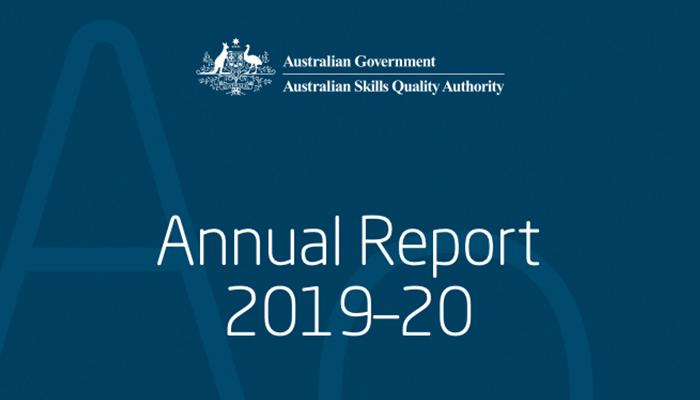 2020 has been a year of significant challenges for all who work within the VET Sector including the National VET Regulator. The Australian Skills Quality Authority (ASQA) has been adapting and adjusting its approaches to regulating the vocational education and training (VET) sector and implementing reformed practices.
ASQA has also tabled its annual report in the Australian Parliament. The ASQA Annual Report 2019­–20 outlines ASQA's results against key performance indicators included in the 2019–20 Portfolio Budget Statements, the ASQA Corporate Plan 2019–20, and the National Vocational Education and Training Regulator Act 2011.
The report also details how ASQA have addressed what has proved to be pronounced effects on the VET and international education sectors, describing its risk management strategies to identify and treat the most significant risks facing providers within these sectors.
Key activities and achievements in 2019-20 included:
supporting the rapid review of ASQA's governance, regulatory practices and culture, resulting in 24 recommendations that were all accepted by government, and have already led to ASQA making strong progress in their implementation
supporting providers and the broader sector following the bushfires and then COVID-19 by offering flexibility and reducing regulatory burden wherever possible
providing extensive guidance and educative material to support providers to navigate the complexity of the bushfires and COVID-19 pandemic, while being transparent in relation to risk areas and their mitigation
significantly expanding engagement activities and developing a more comprehensive approach to how we communicate with stakeholders across the sector
supporting the development of two legislative changes to the National Vocational Education and Training Regulator Act 2011, including amendments following the Braithwaite and Joyce reviews and changes to ASQA's governance, which also included implementing the first stage of a significant internal restructure that took effect from 1 July 2020.
Within the report, ASQA's Chief Commissioner, Saxon Rice, describes ASQA's current reform strategy to work together for better regulation, as outlined in the Heads of Agreement for Skills Reform, and ASQA's role as a regulator. Moving forward, Ms Rice describes ASQA's intention to remain focused on continuing and expanding its reform agenda and, in doing so, shift the emphasis from input and compliance controls to provider self-assurance and excellence in training outcomes.
Click here to download the full ASQA Annual Report 2019-2020.