All Your Maps In One Place: Collaborate and Map Online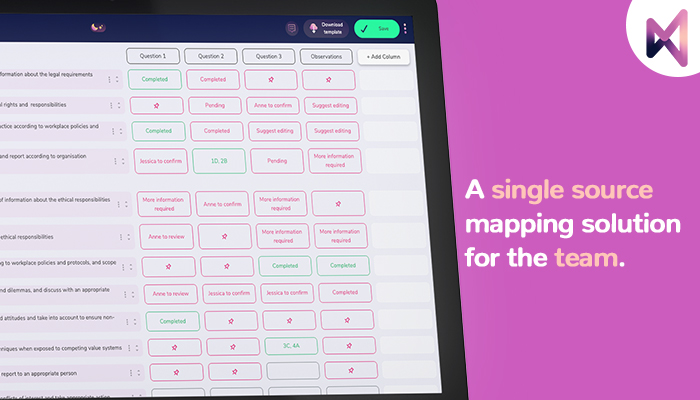 Magic Map has a range of collaborative tools to make mapping an easy task for RTO's of all sizes. Designed to streamline version control and for collaborative teamwork. Team members can easily share and work together in one online mapping location.
Sync directly from Training.Gov.Au and your mapping template is ready to go in just a few clicks. No copy and paste required!
Save a custom template specific to your RTO that can easily be applied to all your maps and used across all units of competency. Consistency and collaboration made easy.
In a single click you can duplicate and edit multiple versions of your map then easily sort and save in your self-managed library and folder directory.
Magic Map's online storage allows RTO's to easily store, share and collaborate. Users can sort their maps by course, qualification, RTO, or a tailored folder directory to meet your needs. A cloud-based library that keeps your maps in one place for everyone to access.
Need to work offline? Simply download your map as a word, excel document, or PDF. Make mapping a breeze and try Magic Map for yourself today.
Interested in trying Magic Map for yourself?
Claim your free seven-day trial, or reach their friendly team with your questions.
Velg Training Members Receive 15% Off*
*Receive 15% off your first year of a Magic Map multi-unit plan.
Claim your member's discount code today!
Velg Training Followers Receive 5% Off*
*Receive 5% off your first year of a Magic Map multi-unit plan.
Use code VELG5 when upgrading from a 7-day free trail to a multi-unit plan. Sign Up Today
Or contact us for more information: https://magicmap.com.au/contact-us/