ReadyTech to Support Student Completion Rates With New Digital Behavioural Science Tool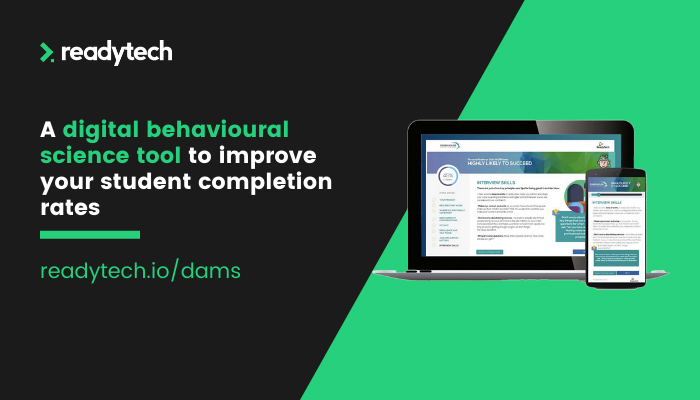 While attracting and enrolling students is a primary focus in vocational education, providers also face the challenge of supporting those students and apprentices who do enrol with their student journey, to boost course engagement, progress and overall completion rates.
That's why ReadyTech has launched Digital Activation Modules (DAMs) for education, a new offering enabling educators to measure student motivation, segment their students and respond through engaging digital interventions to support better completion outcomes.
Based on the latest, evidence-based behavioural science, DAMs allow educators to use an AI-backed, digital attitudinal assessment test, which can predict those students at risk of dropping out, either as they enter a course or at periodic intervals along the student journey.
Educators can automatically segment their student cohorts based on the level of motivation students have for a course and respond appropriately with personalised, targeted digital activation module videos tailored for their level of commitment to completion.
ReadyTech's DAMs gives vocational educators the power of:
Targeted digital activation modules delivered directly via SMS or email
Automated notifications at any time on any device to support progress
Progress monitoring in real-time with data visualisation and analysis tools
AI-generated coaching guides to support student support conversations
Enhanced engagement and resilience right along the student journey
Students have different reasons for starting an education and training course and different attitudes and levels of commitment towards their chosen program. Behavioural science has shown that attitude is the strongest influencer on a student's ability to complete.
DAMs from ReadyTech allows providers to mitigate that risk to drive sustained completion outcomes. They enable educators to deliver a new level of personalised student support, maximising the empowerment of students in their pursuit of education and work goals.
So, what are you waiting for? Rethink student support with ReadyTech today.
Visit readytech.io/dams for more information or to request a demo.