Monitoring Attendance is Easy - Eliminate friction for faculty and students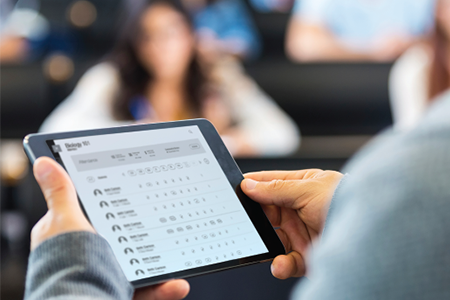 Countless hours are spent by lecturers in universities across the globe preparing informative lectures and engaging activities. Most of these lecturers would agree the best they can hope for at the end of each semester is their students to have gained a solid understanding of the subject material and are able to take away at least one nugget of information that might assist them on their professional pathway.
This is the ideal but in reality, it only works if a student attends class. The positive correlation between time spent in the classroom and student success is well recognised by educators, with universities under greater pressure to demonstrate that students who say they attend university actually do.
However, tracking student attendance is not just an isolated necessity of a university having to maintain academic integrity. Several other contributing factors, including compliance to government regulations, make attendance tracking an increasingly hot topic in the education sector. At the most recent Blackboard Teaching and Learning Conference ANZ 2018 in Brisbane, delegates acknowledged that whilst Australia has not reached the same level of regulatory governance as the United States, the industry is heading towards compulsory attendance tracking. For example, tracking attendance for full-fee paying English Language Intensive Courses for Overseas Students (ELICOS) students is a big issue. Student visas can be cancelled if attendance levels are not maintained at 80% or higher and the student can be deported.
Consistent classroom attendance is widely recognised as a precursor to strong academic performance. An academic study by the University of Central England, Birmingham, states that a student who attends less than 70% of the time has a two in three chance of failing the course. Students with higher attendance records are more engaged in their education, and more likely to stick with it to graduation. With a simple and seamless way to track attendance, it becomes straightforward to identify those who are falling behind so they can get the attention they need.
While this sounds easy to accomplish, tracking attendance has to date been a cumbersome and typically manual process, one that has consumed valuable instruction time and has been prone to errors. In a bid to leave these outdated methods behind, universities are now looking for real-time access to attendance data across the campus to inform student progression and retention initiatives. Optimal attendance systems should be effortless, frictionless and able to record student presence in class, online, at institution sponsored events and with student support service providers such as tutors.
The potential for institutions to mine data from attendance tracking for planning of infrastructure is also an area to be explored. Understanding the use of space, whether it is the physical size of a classroom versus the number of students attending a lecture, to the width of a pathway students travel on to arrive at that classroom is information that is valuable. By taking attendance in paper form, for example, institutions may be missing out on data that can assist when operational and campus planning decisions are being made.
Attendance data when combined with other data streams and incorporated into a bigger picture of campus engagement can become a powerful tool for administrators focusing on at-risk students and help increase retention, enhance student success, and improve infrastructure planning and institutional financial health.
We have been able to demonstrate the power of our Campus Enablement solution at the recent National Vocational Education and Training Conference held in Adelaide. Conference organisers were able to track delegate attendance at each session, and gain greater understanding of which sessions were most valuable and populated. The acquired information can be used in forward planning for future events.
To learn more about Blackboard's Campus Enablement solution and how it will help address your attendance challenges please visit http://anz.blackboard.com/campus-access-card/blackboard-transact.html or contact us for more information.