Resources For Coping Through COVID and Beyond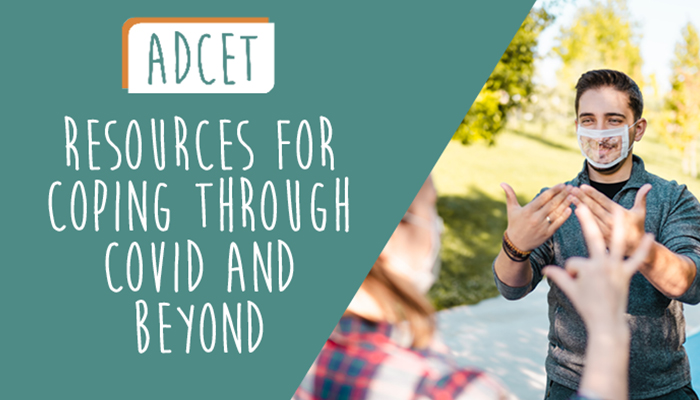 The disruptions from COVID-19 has meant a year like no other for most VET students and staff. The situation continues to present unique challenges for staff who support and teach students with disability and over time this can take its toll. As you adapt to the implications of physical distancing, on-line learning environments, and working off-campus, access to up to date information and emerging practices, shared tips and strategies can be critical to supporting you support your students.
The Australian Disability Clearinghouse on Education and Training (ADCET) have been developing a whole range of exciting new resources and initiatives to help you in your essential work during COVID and beyond.
They are freely available from ADCET's COVID-19 webpage and include:
Guidelines: Supporting Students and Staff with Return-to-Campus. These guidelines aim to complement your institution's general approach and resources by ensuring that return-to-campus plans are viewed through a 'disability lens'. They provide practical recommendations to support the safe return of staff and students with disability back onto campus when they are comfortable and able to do so.
Wellbeing sessions – ADCET understands you're busy but know that looking after your wellbeing is important not just for you but also for the students you support. The 12@12 wellbeing sessions are just 12 minutes long and packed with evidence-based practical advice and tips for you to try. Additionally, there is general information on staff wellbeing and looking after our mental health during COVID, and some great articles with ideas for managing change and fostering high quality connections with colleagues and students.
Using Zoom – While Zoom or similar web conferencing platforms may have been a 'lifesaver' in many ways as they have enabled us to keep doing our work many of us can feel drained and exhausted at the end of a day of virtual meetings. ADCET's Managing Zoom Fatigue article explains how and why zoom fatigue is a real thing, and what we can do to avoid it. There is also an article on Zoom Top Tips to help us use Zoom in an accessible way and get the most out of it.
Check out a Podcasts and Webinars – that covers topics such as COVID19 & Beyond: Perspectives from TAFE students and Online learning for Deaf and hard of hearing students, learnings from COVID-19.
Visit the ADCET website to check out these and other helpful resources to support you as you support students with disability. www.adcet.edu.au.