Your Free eZine is Waiting For You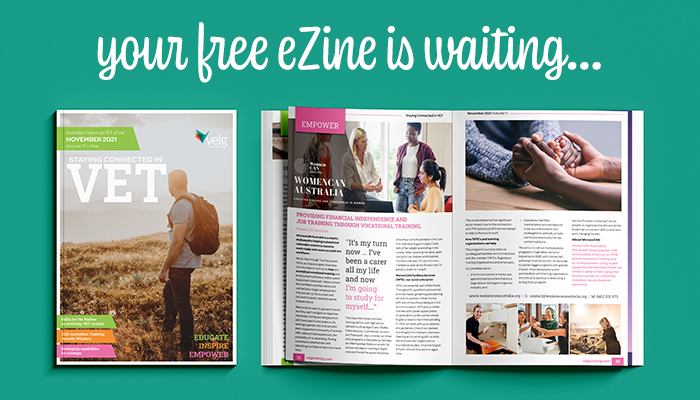 This eZine volume brings you a range of motivational stories, each with an objective to fulfil the meaning behind Education, Inspiration and Empowerment, including:
Saxon Rice, Chief Executive Officer of the national VET regulator, the Australian Skills Quality Authority, speaks frankly about an evolving VET system being at the forefront of national upskilling needs

Year 13's William Stubley discusses new ways to promote digital, mining and human service careers to school students

Paul Walsh, Chief Executive Officer of the Australian Industry Standards talks about supply chains and the transferability of skills

Jenny Dodd, Chief executive of TAFE Directors Australia outlines how, when it comes to customising solutions, we can develop capabilities for codesign, and

WomenCAN Australia demonstrates how the VET sector can provide financial independence and job training.
Whether you are enlightened by Saxon Rice's insights into An Evolving VET System, or empowered by WomenCAN Australia's dedication to Providing Financial Independence and Job Training through Vocational Education, or just simply blown away by the awe-inspiring stories of the Australian Training Awards' Winners – our goal is to connect you with the stories that matter.
So sit back, put your feet up and allow yourself to be educated, inspired and empowered with these truly unique and motivational stories from those in the know.
Access YOUR eZine here.