How a growing number of RTOs are turning to this solution for improving assessment outcomes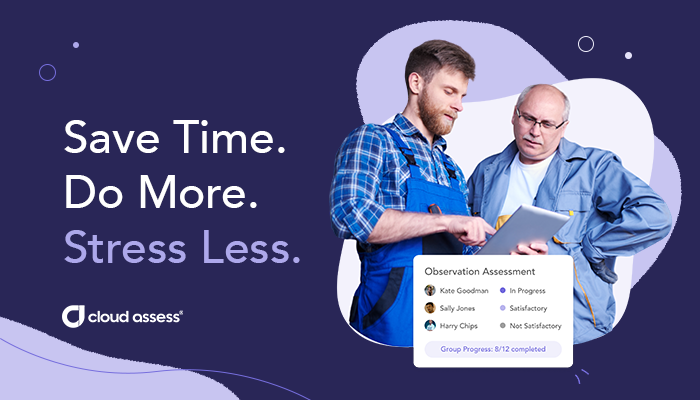 In today's technology-driven environment, traditional methods of learning and assessment often come up short. Furthermore, technology continues to advance rapidly.
At the National VET Conference, we discovered that training videos longer than 90 seconds can disengage Gen Z learners, making it challenging for them to absorb the valuable content you've put so much effort into providing. Serving your content up into bite-sized chunks is the way to go.
Optimising assessment is essential too. It requires the same level of consideration as the learning material itself. Key questions to ponder include: How will my learner engage with this? How can we support them in demonstrating their knowledge and skills? These questions are important not only when choosing the appropriate assessment instrument, but also when considering how the assessment is presented and conducted, whilst following the unit requirements
Luckily for RTOs, there is a solution. Cloud Assess is purpose-built for RTOs, designed with the #1 purpose of providing the most flexible assessment solution in the Vocational Education and Training sector.
Why Choose Cloud Assess?
Cloud Assess, a pioneer for a decade, streamlines assessments from enrolment to results. Clients eliminate administrative hassles with this purpose-built, paperless solution.
"With Cloud Assess it's a more intimate and guided student experience plus it is purpose-built for our compliance requirements." Jordan Murphy, Onfit Training College
The results speak for themselves: RTOs boost learner engagement, reduce administrative workloads, and cut assessment costs by up to 85%. Cloud Assess is feature-rich and supports compliance and self-assurance. With Journeys, RTOs can take their students efficiently through their course material in the user-friendly Learner App accessing records both on and offline.
"The management team love it and so do I as we can see the status of things in real-time for example, where a student is at with their progress or whether they have even logged in recently."

- Duncan Headford, Major Training.
What Else Can Cloud Assess Do for You
Cloud Assess is not just another assessment tool; it's a purpose-built solution that is continuously improving and will reshape how you engage learners, assess their progress and enhance efficiency. Here's what you can do with Cloud Assess:
Create Any Assessment Type – Cloud Assess provides unparalleled flexibility for classroom, on-the-job, RPL, or third-party assessments.
Seamless Integration – Allow your data to flow with off-the-shelf integration with your Student Management System. This will avoid double entry and eliminate data silos.
Provide a Learner-Centric Approach – Cloud Assess provides a seamless, paperless experience for learners via the Learner App. Communicate with your learners via course posts and 1:1 messaging.
Enhance Visibility and Engagement – Cloud Assess provides real-time student progress, enabling you to step in with timely support whenever needed.
Access a Library of Digital Course Content – The free course library enables you to import any courses from a wide range of topics. Each course comes with an eLearning package and two assessments.
Ready to save time and transform your RTO? Discover how Cloud Assess can streamline your assessment. Book a demo or access the free courses today. Browse their extensive library, and if you can't see what you're looking for, let their team know and they will design it!